POPULO 5-Inch Mini Electric Cordless Chainsaw
5-inch Small Chainsaw 20v Lithium Powered Wood Cutter, Rechargeable Mini Flex Saw for Trees, One-Hand Handheld Chainsaw with Battery and Charger.
The Populo small chainsaw adds various protective devices, it is a great tool for you to clean the garden and cut trees, and the compact design for cutting in small spaces for precise cutting. The chainsaw is powered by a high-performance 2.0AH lithium-ion battery, providing long run-time, strong power ensures the efficiency of cutting.
$100.00
100% ORIGINAL AND QUALITY
WHY THIS MINI CHAINSAW IS AWESOME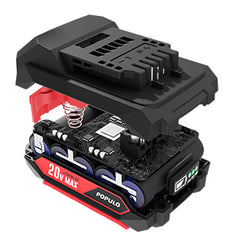 Powerful & High Efficiency
Pure copper motors are more efficient than traditional aluminum motors. Copper has excellent conductivity to reduce rotor loss and improve motor efficiency.
Safe Lock Button
The chain saw is provided with a safety switch to protect against accidental starts to ensure the safety of the user.
Tool-Free Chain Tensioning
Perfect for novice chainsaw users. We designed a fast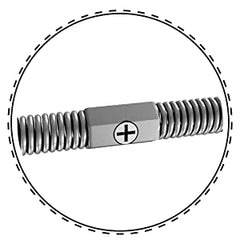 Long Battery Life
The battery life of the mini chainsaw is your most important concern. Our mini chainsaw uses a 20VDC Max 2.0Ah rechargeable lithium battery, which can provide much longer battery life, it can be used for hours after fully charged.
Description
Shipping and Refund
Extensive use scenarios: The Populo hand chainsaw is 3.9lbs only, very light so that it can be operated with one-hand handheld, it is around 15 inch length allowing it to pass through narrow places easily. Perfect for women, younger, senior citizens to cut small tree branches around the yard. It is also a best gift for your parents, fathers, friends when they do pruning, trimming, gardening and camping.
Powerful & High Efficiency: Thanks to its 20V pure copper motor with 3,500rpm speed and 35% more torque output, providing a chain speed of 21ft/s, enables it to cut tree or wood up to 5 inch and 50% faster than other 4 inch small chainsaws, save you a bit time.
Multiple Safety Protection: This mini cordless chainsaw features an electrical brake for quick stop in seconds when released power switch, designed with protective plate and a sprocket cover to greatly protect the user more safely cutting. A safety switch lock to protect against accidental start and include a chain sleeve to store it safely.
Rechargeable mini electric chainsaw: The mini electric cordless chainsaw comes with a 20VDC Max 2.0Ah rechargeable lithium ion battery pack which is compatible with other Populo 20V system tools, the chain with a 1/3 inch pitch. Approximate 50 cuts on single charge which meets all needs for your daily cut or yard care.
No assembly required: The electric handheld chainsaw is fully assembled ready for use! One-year warranty for this saw, the on-board screwdriver supplied for adjusting the chain extension if it is loosen. Only need to lubricate the chain if needed and the chain can be replaced pretty easily without any help of other tools. Please contact us if you have any questions.
SHIPPING AND HANDLE
If you purchased any of Populo tools from our website, we would provide our free standard order shipping offer, but is only available in the contiguous United States ONLY. Order shipped to others such as Alaska, Hawaii or international address is not covered by our free standard order shipping offer. Shipping provider for free standard order shipping is selected at Populo's discretion. If you choose to expedite your shipment, shipping fee will apply.
When you order ships, we will notify you via email. Usually, you will receive the order with approximately 2 - 3 business days after order shipped with our free standard shipping offer.
If anything seems unusual with the progress of your shipment, be sure to reach out to us: support@populotools.com.
WARRANTY & RETURN
Populo is committed to building quality and reliable tools that provide dependability for years to come with great value. Our warranty policy is consistent with this dedication to quality, allowing you to access to our customer service as needed for the duration of your purchase' s warranty.
The specific warranty covering your Populo tool applies only to tools purchased from Authorized Populo Retailers or directly from Populo Online Website. Specific warranty information can be found in the Owner's Manual of each item.
If you decide that your Populo purchase is not right for you, you're allowed to return your product for a full refund of purchase price with the first 30 days of your purchase. The merchandise must be returned in the same condition that was received including all packaging to avoid being subject to a 15% restocking fee. You'll receive refund with approximately 5 to 7 business days after the returned item arrived back at our warehouse.
TERMS OF LIMITED WARRANTY
This limited warranty is not meant to suggest or imply that the tools can not be broken or will last forever, it does means that the tools are covered subject to the terms of the limited warranty. This limited warranty applies only the original owner of a Populo tools and is not transferable to subsequent owners. This limited warranty is void if the tools are subjected to abuse, neglect, improper repair, improper maintenance, alteration, disassembled, tampered, an accident or other abnormal, excessive or improper use. Damage resulting from normal wear and tear, including the results of fatigue, is not covered. Damage resulting from improper assembly or maintenance, or from installation of parts and accessories not compatible with the Populo tools is not covered. All labor charges for warranty service are the responsibility of  the tools' owner.
In the event that the processing of a warranty claim requires shipping, any such shipping charges are responsibility of the tools' owner. During the duration of this limited warranty, Populo will either repair any defective components or , at our option, replace the same or most nearly comparable model then available. THIS IS  THE EXCLUSIVE REMEDY UNDER THIS WARRANTY. ANY AND ALL OTHER REMEDIES AND DAMAGES THAT MAY OTHERWISE BE APPLICABLE ARE EXCLUDED, INCLUDING, BUT NOT LIMITED TO, INCIDENTAL OR CONSEQUENTIAL DAMAGES OR PUNITIVE DAMAGES. THIS THE ONLY WARRANTY MADE BY POPULO ON ITS COMPONENTS, AND THERE ARE NO WARRANTIES WHICH EXTEND BEYOND THE DESCRIPTION HEREIN. ANY WARRANTIES THAT MAY OTHERWISE BE IMPLIED BY LAW INCLUDING, BUT NOT LIMITED TO, ANY IMPLIED WARRANTY OF MERCHANTABILITY ARE EXCLUDED. This limited warranty gives the consumer specific legal rights. The consumer may also have other legal rights which vary from the state to state or country to country. Some states and countries do not allow the exclusion or limitation of incidental or consequential damages or warranties, so the above limitations or exclusions may not apply to you. If it is determined by a court of competent jurisdiction that a certain provision of this limited warranty does not apply, such determination shall not affect any other provision of this limited warranty and all other provisions shall remain in effect.
HOW TO MAKE A WARRANTY CLAIM
If you believe your Populo tool has a warranty issue, your first point of contact should be your Populo retailer where you purchased. The place of purchase will facilitate the claim with Populo on your behalf. If you purchase directly from Populo, please contact our customer service center for instructions on how to proceed: support@populotools.com 
FAQ ABOUT OUR WARRANTY
Q: I am not the original owner as I purchased my Populo tool secondhand. Is my Populo tool covered by warranty.
A: Sorry, no, the warranty coverage only extends to the original buyer.
Q: Who should pay for the shipping cost if i return the product within the first 30 days after original purchase?
A: Sorry, this shipping cost will be charged by the people who returns the product.
Q: I dropped and damage my Populo tool, is warranty coverage available to me?
A: Drops and accidents are not covered by the warranty policy. However we can offers replacement tool at a discount price, for  additional information, please contact our customer service center: support@populotools.com 
Q: Who should i contact for parts & repair?
A: Please contact our customer service center: support@populotools.com 
5:in chainsaw
This lil thing is great. Does wonderful yard maintenance. Worth every penny.
We need to find a replacement chain, though.
Sammi